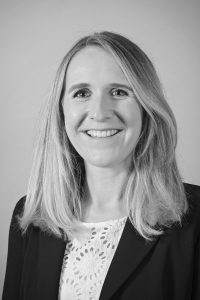 01328 852828
Law Specialism: – Family Law
Kate is an experienced Solicitor specialising in family law, having worked in the legal field since 2004.  Kate provides advice and representation in all areas of family life including relationship breakdown, divorce, separation, children (including private law, adoption, special guardianship, financial support for children), financial disputes, civil partnership, cohabitation, domestic abuse and pre-marital agreements.
Kate provides clear, sensible, practical advice.  She understands that this is often a difficult and emotive time and guides her clients throughout the process.  Kate is committed to resolving family disputes in a constructive and conciliatory manner where possible, particularly where there are children involved.  She is approachable, pro-active and efficient.
Kate is an experienced advocate and is able to represent clients in court where litigation is the only way to resolve disputes.
Kate is a member of Resolution. Resolution is an organisation of lawyers and other family justice professionals who are committed to following a non-confrontational and constructive approach to resolving family issues.
The Resolution Code of Practice promotes a constructive approach to family issues and considers the needs of the whole family, in particular the best interests of children."