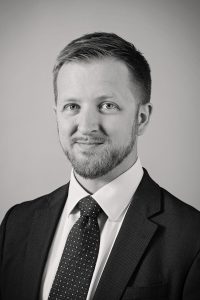 01328 852839
Partner
Law Specialism: Civil Litigation
David is a civil litigation solicitor. He deals with disputes through the courts and by Alternative Dispute Resolution including mediation, adjudication and negotiation. He graduated with a law degree from King's College London in 2006 (LLB), and worked for a commercial firm in Norwich until March 2020.
David has a master's degree (LLM with distinction) in construction law, and has dealt with cases ranging in value from £10,000 to £10m, including disputes relating to payment, extensions of time, defects, payment notices (including pay less notices, etc) and complex contractual issues.
Additionally, David has dealt with probate disputes, residential property disputes (including those relating to boundaries), commercial property disputes, personal injury (claims and defences), debt recovery and commercial disputes. He has brought and defended proceedings for debt, damages, injunctions, specific performance, accounts and inquires and declarations and dealt with cases in the County Courts, High Court, Court of Appeal, Land Registry Adjudicator, Magistrates Court, Crown Court and others, some of which involved his own advocacy but also with Counsel when appropriate.
As well as his legal knowledge and the robust approach to be expected of a litigator, clients appreciate David's prompt client care, no-nonsense communication skills and his clear, honest advice from an early stage.
Legal 500 Testimonials
 'Butcher Andrews punches well above its weight as a litigation firm within East Anglia. Its specialist team is perfectly happy taking on the bigger regional and national firms.'
'I cannot put into words how professional David Richards and his team at Butcher Andrews in Fakenham were with my sensitive case and kept on board at all times to the end and resolved my case to the highest of standards. Well done David and his team.'
'David Richards is one of the most professional solicitors; he has an honest, "cards on the table" approach that you would want for your case.'