Butcher Andrews are very pleased to be supporting our Charity Partner Break.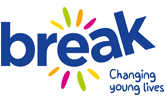 Break is a Norfolk based children's charity supporting children, young people and families across
East Anglia, in four main areas of work: 
Young people in care and moving on
Children and young people with disabilities
Families in need of support
Children at risk
Here are some of the ways you can support Break!
Leave a legacy – you can leave Break a gift in your will with help from Butcher Andrews.
Donate to our shops – donate your unwanted clothes, books etc to your local Break shop, or set up a collection through work.
Shop with Break – we have over 50 Break charity shops, go online to find your local shop.
Have you ever considered becoming a foster carer? Get a copy of our foster carers' guide here!
Donate by text, online, by cheque or by signing up to give Break a regular donation
Work or volunteer for Break – find out what opportunities are available visit our website.
Fundraise for us on your own, with your school, at work or with a group.
Attend one of our fantastic events and have fun whilst supporting Break
OR challenge yourself to complete our cycle ride the East Anglia 120!
Corporate partnerships enable you to raise money for Break whilst raising your company's profile
Have a break with Break, by staying at our large group holiday home, The Mill House.
For more details check out the Break website – www.break-charity.org